About The Crooked Heart of Mercy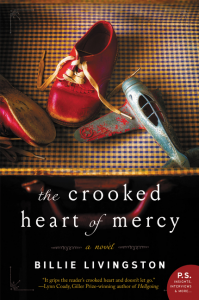 • Paperback:
272 pages
• Publisher:
William Morrow Paperbacks; Reprint edition (March 8, 2016) From acclaimed Canadian novelist Billie Livingston comes this powerful U.S. debut that unfolds over a riveting dual narrative—an unforgettable story of ordinary lives rocked by hardship and scandal that follows in the tradition of Jennifer Haigh, A. Manette Ansay, and Jennifer Egan. Ben wakes up in a hospital with a hole in his head he can't explain. What he can remember he'd rather forget. Like how he'd spent nights as a limo driver for the wealthy and debauched . . . how he and his wife, Maggie, drifted apart in the wake of an unspeakable tragedy . . . how his little brother, Cola, got in over his head with loan sharks circling. Maggie is alone. Again. With bills to pay and Ben in a psych ward, she must return to work. But who would hire her in the state she's in? And just as Maggie turns to her brother, Francis, the Internet explodes with a video of his latest escapade. The headline? Drunk Priest Propositions Cops. Francis is an unlikely priest with a drinking problem and little interest in celibacy. A third DUI, a looming court date. . . .When Maggie takes him in, he knows he may be down to his last chance. And his best shot at healing might lay in helping Maggie and Ben reconnect—against all odds.
My Thoughts…
Wow! There is a lot happening in this book. To read the synopsis you would think it is all about Ben and Maggie. While these are the two main characters there are so many other characters and things going on within its pages. The story of Francis, Maggie's brother and an alcoholic priest, was interesting. There is so much a priest gives up to become a servant of God yet Francis doesn't quite get that, at all. Then add in Ben and Maggie's son. He is really the entire story having a part in everybody's life and being the cause of most of the problems. Cola (love the name) was the heart tugger. He had so many opportunities yet always was looking for the easy way. Ben Sr, Ben Jr's father, also tugged at my heart. I cannot imagine my father living a life like Ben Sr. did and not being able to get him the help needed.
Of course, Ben and Maggie… The main characters. Maggie's story was that of a mother and wife dealing with lose and separation from love ones. She had to deal with so much and did the absolute best she could. When Lucy entered her life I wondered if it would help, but could see where that friendship was heading and how it would probably work out. Ben's story was confusing. There were times I was not sure what he was talking about. I realized as the story went on where he was and what he was fighting and that made the rest of his story make a lot more sense to me.
This is not an easy book. The alternating chapters are easy to follow but the stories told in these chapters are not always easy to read. There are tough subjects dealt with. This is my first Billie Livingston book and hopefully not my last.

Purchase Links
"The poignant story of broken people trying desperately to be whole, lost somewhere between a prayer and a wish. Raw and heartfelt. Remarkable."—Will Ferguson, Giller Prize-winning author of
419.
About Billie Livingston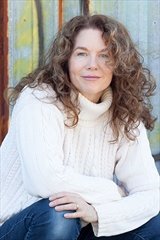 Billie Livingston is the award-winning author of three novels, a collection of short stories, and a poetry collection. Her most recent novel,
One Good Hustle,
a Globe and Mail Best Book selection, was nominated for the Giller Prize and for the Canadian Library Association's Young Adult Book Award. She lives in Vancouver, British Columbia. Find out more about Billie at her
website
and connect with her on
Twitter
.