About Rainy Day Friends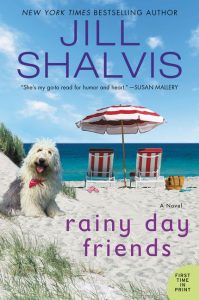 • Paperback:
384 pages
• Publisher:
William Morrow Paperbacks (June 19, 2018)
Following the
USA Today
bestseller,
Lost and Found Sisters
, comes
Rainy Day Friends
, Jill Shalvis' moving story of heart, loss, betrayal, and friendship.
Six months after Lanie Jacobs' husband's death, it's hard to imagine anything could deepen her sense of pain and loss. But then Lanie discovers she isn't the only one grieving his sudden passing. A serial adulterer, he left behind several other women who, like Lanie, each believe she was his legally wedded wife.
Rocked by the infidelity, Lanie is left to grapple with searing questions. How could she be so wrong about a man she thought she knew better than anyone? Will she ever be able to trust another person? Can she even trust herself?
Desperate to make a fresh start, Lanie impulsively takes a job at the family-run Capriotti Winery. At first, she feels like an outsider among the boisterous Capriottis. With no real family of her own, she's bewildered by how quickly they all take her under their wing and make her feel like she belongs. Especially Mark Capriotti, a gruffly handsome Air Force veteran turned deputy sheriff who manages to wind his way into Lanie's cold, broken heart—along with the rest of the clan.
Everything is finally going well for her, but the arrival of River Green changes all that. The fresh-faced twenty-one-year old seems as sweet as they come…until her dark secrets come to light—secrets that could destroy the new life Lanie's only just begun to build.
My Thoughts...
Rainy Day Friends is the perfect summer, it's too hot to be outside story. I loved the story of Lanie escaping her life after finding out her husband was a husband to other women and finds herself pulled into the amazing family of the Capriottis. This family is wonderful. They are loud, obnoxious, nosy, and so welcoming. Anyone who comes to their winery is instantly taken under Cora's, the owner, protective wing and welcomed into their crazy family.
When River arrived at the winery, peeking in the window, living in her car I knew that she would be accepted with open arms but I also knew that there was more to her story. It didn't take long for me to figure out what drew her to come to the winery and why she was interested in Lanie. I liked that Jill Shalvis had them become friends first then told the rest of their connection. I cannot blame River for coming to the winery. It was probably the only way that she could survive with her baby.
Mark... oh Mark and his gorgeous,naughty, sweet, lovable twin girls. I loved the paragraphs that included the twins and Mark. Those twins were too much and I could picture their cute blonde heads, the two of them wandering the winery and causing havoc to the adults. And Mark with his big bad teddy bear attitude trying to keep them in line, going to work, and visiting Lanie all while to hide his heart. There was no doubt that his heart was going to bust open when he first set his eyes on Lanie and I was excited to see how long he could hold out and how he would convince Lanie that she could trust a man again.
Jill Shalvis is so talented. She is a definite must-read author for me. I recommend picking up Rainy Day Friends and then going back and reading the rest of her books.

Purchase Links
About Jill Shalvis
New York Times and USA Today bestselling author Jill Shalvis is the award-winning author of over three dozen romance novels. Visit www.jillshalvis.com for a complete book list and a daily blog chronicling her I-Love-Lucy attempts at having it all; the writing, the kids, a life … Find out more about Jill at her
website
, and connect with her on
Facebook
,
Twitter
, and
Instagram
.