About What the Waves Know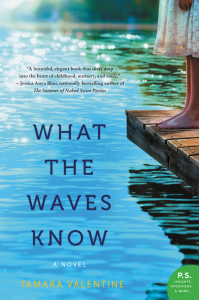 • Paperback:
352 pages
• Publisher:
William Morrow Paperbacks (February 9, 2016)
"A beautifully written story of a daughter's journey to find her voice, both literally and figuratively. Valentine reminds us that to be fully human is to be both a storyteller and a story dweller."—Christina Meldrum, author of
Madapple and Amaryllis in Blueberry
On the sharp crags of tiny Tillings Island lies the secret of Izabella Rae Haywood's sixth birthday. That night, her father vanished, taking her voice—and the truth of what really happened—along with him. In the autumn of 1974, after eight long years of unsuccessful psychiatrist visits and silence, Iz's mother packs up the tattered remains of their life, determined to return to Tillings in one last attempt to reclaim Iz's voice—and piece together the splintered memories of the day her words ran dry. But when the residents of Tillings greet them with a standoffish welcome, it becomes clear that they know something about Iz, and the father she adored, that she does not. Now, as the island's annual Yemayá festival prepares to celebrate the ties that bind mothers to children, lovers to each other, and humankind to the sea, Iz must unravel the tangled threads of her own history . . . or risk losing herself—and any chance she may have for a future—to the past.

My Thoughts…
What the Waves Know is a different type of story for me. The story is told from Izabella (Iz) voice. It is the story of a 6 year old and a 14 year old. She relives the worst time in her life when her father leaves her and she stops speaking as she saw it through 6 year old eyes. That part of the story shows how what a child perceives happening is not always the whole story. Then it tells the current story and how at 14 she has not been able to move past what she feels in her fault. In those 8 years she has not spoken a word. She feels like her voice left her when her father walked out the door.
I felt like this is a sad story. Imagine the grief and stress that a 6 year old can put on themselves when they feel at fault for an adult leaving. It was heart breaking to see her struggle with life when it should have been a carefree and easy existence. Because of this life changing event she has no friends, she is home schooled, called names, and struggles with her relationship with her mother. It was also uplifting to see how she works through her struggles and come out on top. This is a story about a girl, who thought she knew what happen, coming to terms with the truth of her father's abandonment.
The mother and grandmother also had an interesting relationship. I think it is a typical mother daughter relationship for grown women. The grandmother makes her comments and pushes her way into their world while the mother tries to hold on to her own life and make her own decisions. In this case the grandmother was the wise one. She saw that just the mother was always "busy" and was not seeing what was truly happening with Iz. She pushes, inserts her opinion, all for the better of Iz's relationship with her mother and Iz's life.
I recommend checking out What the Waves Know. Tamara Valentine wrote a great book with amazing characters and a unique storyline.

Purchase Links
About Tamara Valentine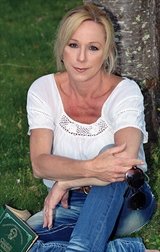 Tamara Valentine obtained an M.A. with distinction from Middlebury College and has spent the past fourteen years as a professor in the English Department at Johnson & Wales University. Presently, she lives in Kingston, Rhode Island, with her husband and three children. Find out more about Tamara at her
website
, and connect with her on
Facebook
and
Twitter
. Published February 9, 2016 by William Morrow Paperbacks
In the tradition of Sue Monk Kidd and Beth Hoffman comes a compelling debut novel about a young woman's quest to find herself—and her voice—on the island where she lost both

The tiny state of Rhode Island is home to even tinier Tillings Island—which witnessed the biggest event of Izabella Rae Haywood's life. For it was there, on Iz's sixth birthday, that her father left...and took her voice with him.