About The Opposite of Everyone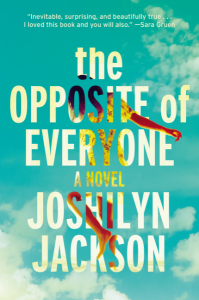 • Hardcover:
304 pages
• Publisher:
William Morrow (February 16, 2016)
A fiercely independent divorce lawyer learns the power of family and connection when she receives a cryptic message from her estranged mother in this bittersweet, witty novel from the
New York Times
bestselling author of
Someone Else's Love Story
and
gods in Alabama
—an emotionally resonant tale about the endurance of love and the power of stories to shape and transform our lives Born in Alabama, Paula Vauss spent the first decade of her life on the road with her free-spirited young mother, Kai, an itinerant storyteller who blended Hindu mythology with southern oral tradition to reinvent their history as they roved. But everything, including Paula's birth name, Kali Jai, changed when she told a story of her own—one that landed Kai in prison and Paula in foster care. With the two of them separated, each holding her own secrets, the intense bond they once shared was fractured. These days, Paula has reincarnated herself as a tough-as-nails divorce attorney with a successful practice in Atlanta. While she hasn't seen Kai in fifteen years, she's still making payments on that karmic debt—until the day her last check is returned in the mail, along with a mystifying note: "I am going on a journey, Kali. I am going back to my beginning; death is not the end. You will be the end. We will meet again, and there will be new stories. You know how Karma works." Then Kai's most treasured secret literally lands on Paula's doorstep, throwing her life into chaos and transforming her from only child to older sister. Desperate to find her mother before it's too late, Paula sets off on a journey of discovery that will take her back to the past and into the deepest recesses of her heart. With the help of her ex-lover Birdwine, an intrepid and emotionally volatile private eye who still carries a torch for her, this brilliant woman, an expert at wrecking families, now has to figure out how to put one back together—her own.
The Opposite of Everyone
is a story about story itself, how the tales we tell connect us, break us, and define us, and how the endings and beginnings we choose can destroy us . . . and make us whole. Laced with sharp humor and poignant insight, it is beloved
New York Times
bestselling author Joshilyn Jackson at her very best.
Acclaim for The Opposite of Everyone
"
The Opposite of Everyone
is so fast-paced, smart, and witty that it's tempting to rush to the end. Don't. Careful readers will be rewarded by the intricate strata of stories—both real and mythical—that build in artful layers, playing off and enriching each other. Jackson draws from both rural Alabama folklore and the god stories of ancient India, weaving these narratives flawlessly toward a crescendo that is straight out of an O'Connor tale—inevitable, surprising, and beautifully true in every sense of the word. I loved this book and you will also."—Sara Gruen,
New York Times
bestselling author of
At the Water's Edge
and
Water for Elephants
"Joshilyn Jackson has written her most unforgettable character, Paula Vauss. I love her, I hate her, I want to yell at her, then laugh with her, then fight with her before drinking with her. But mostly I want her to be real. And I didn't want her story to end. Like all special books, I feel grateful for having read it."—Elaine Lui, founder of Lainey Gossip and author of
Listen to the Squawking Chicken
"Part twisting suspense, part unflinching exploration of the world of abandoned and exploited girls, this book is tough as nails, narrated by a hard-boiled divorce attorney, Paula Vauss, who learns early how to fight dirty in order to survive. Fierce as Paula is, it is her great and loyal heart that animates these pages, leaving the reader energized and in awe. This is one of those books that keeps you up late reading and distracts you from your day, as you yearn to get back to its pages. I can't recommend it highly enough."—Susan Rebecca White, author of
A Soft Place to Land
My Thoughts…
I have to admit that I struggled with The Opposite of Everyone. I have been a big fan of Joshilyn's past books and raved about her to my book club. When asked to review The Opposite of Everyone I was so excited. I am not sure if it is the Hindu mythology, which I knew nothing about, or maybe it was just the mood I've been in lately.
Joshilyn included many incredibly tough subjects into the pages of this book. There is the estranged relationship of a mother/daughter, an abandoned daughter, foster care, and some alcoholism. None of these are easy to write about. Yet, in this story they are handled realistically. They are not just mentioned and brushed over. They are taken into the story and made part of the character's life. They also make the story a little hard to handle sometimes.
Paula was an amazing character. She had so many strikes against her. She starts her life with her mother leaving her with unloving grandparents and then a life in the foster system. The fact that she make something of herself is wonderfully amazing. She becomes the tough as nails lawyer handling high profile divorces while making a ton of money. This was always her life goal and she managed to do it with hard work and determination. I loved Paula's character. She is not a character that you will look back on and think awe, I wonder what else happen with her. She doesn't evoke sympathy, she demands respect.
The Opposite of Everything is not a book for everyone. It is not an easy read. While it was not the book for me, it certainly will be for many people. I recommend checking it out.

About Joshilyn Jackson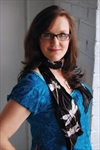 Joshilyn Jackson is the
New York Times
bestselling author of six previous novels, including
gods in Alabama, A Grown-Up Kind of Pretty
, and
Someone Else's Love Story
. Her books have been translated into a dozen languages. A former actor, she is also an award-winning audiobook narrator. She lives in Decatur, Georgia, with her husband and their two children. Connect with her through her
website
,
Facebook
, or
Twitter
.