When recently divorced Lexi Campbell walks into Ezra Benedict's life, all bets are off. Lexi might be out of his league, but when she hires Ezra for a job, he can't fight the pull between them. Fall for this hard-working hottie in More Than Enough by Moni Boyce, a Fling into Romance, the final book in the Blue Collar Romance Series.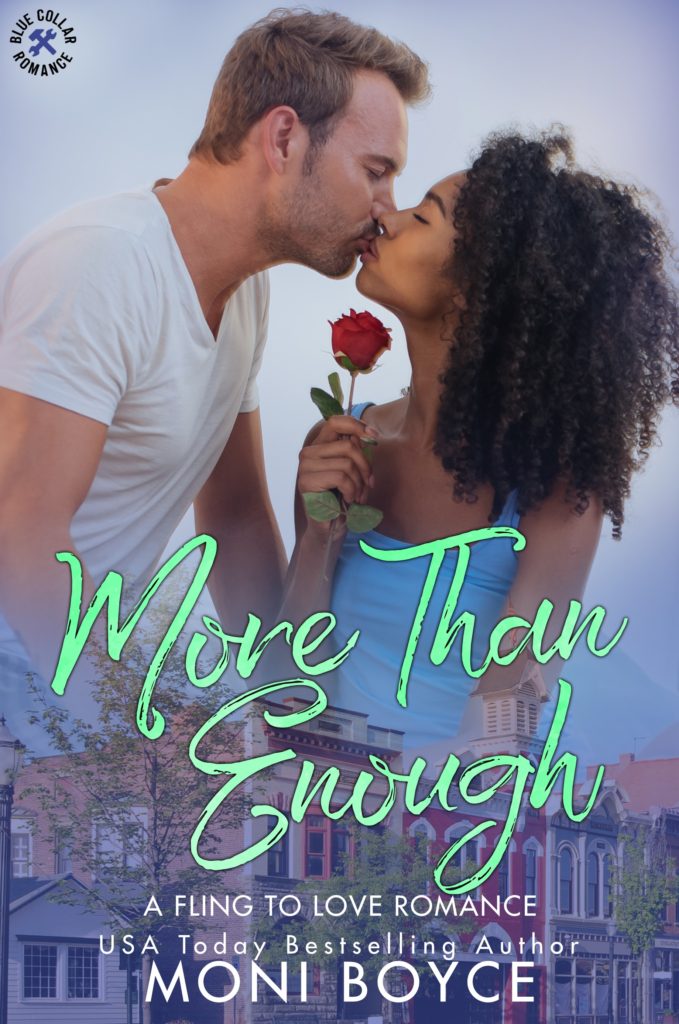 From Moni Boyce comes a fling to forever romance packed with redemption, heat and happily ever after.
Her whole life, Lexie Campbell has played by the rules and lived up to everyone else's expectations, never once stepping out of her comfort zone or putting her needs or wants first.
Divorced and ready for a little excitement in her life, she makes a playful bet to kiss the next guy who walks into the bar where she's out on the town with her girlfriends. She wasn't expecting that guy to be bad boy Erza Benedict himself.
Ezra has a reputation. Growing up on the wrong side of the tracks, he's never been able to outrun his troublesome past no matter how hard he works to redeem himself.
As far as relationships go? Lexie is so far out of his league, but that doesn't stop him from wanting more than one kiss or a one-night stand.
When Lexie comes back into his life by grand design and hires him to landscape the homes she has listed on the market, Ezra knows this is his shot. Unlike their one night together before, Ezra won't settle for hiding their relationship for long.
Together they'll have to learn to forget everyone else's expectations and live (and love) for themselves.
Welcome to Oak Bend, where these blue-collar hotties work hard and love even harder, especially when it comes to landing their happily ever after.
My Thoughts: This is my favorite of the Blue Collar Romance series. I love this series and that each book is a standalone. With each book I meet new characters in the wonderful setting of Oak Bend. Check out this entire series. Every author did a great job of writing a book set in Oak Bend. They can be read in any order and share the story of two new characters in each book.
Lexie and Ezra (love that name) knew each other in high school. Lexie was the perfect student while Ezra was known as the bad boy. They never got together; they were not even really friends. Now Lexie is back in Oak Bend and Ezra has caught her attention. Their one-night stand was hot, steamy, and so sexy. I knew instantly that one night would not be enough for them. I loved how careful they were with each other, how respectful they were, and how they both wanted more but did not know how to put themselves out there and ask for it. Moni Boyce, the author, did a great job of letting their emotions show while also keeping them true to themselves.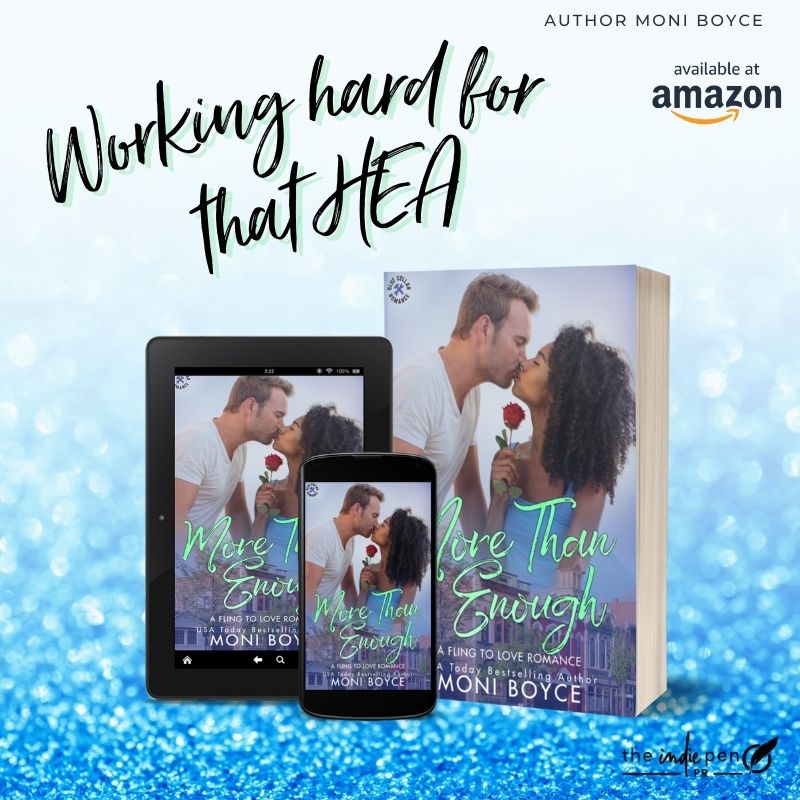 Excerpt
Copyright 2021 Moni Boyce
I called Ox. "Change of plans. Bender's isn't going to work…" I floundered on an alternative. Ox was really hoping to celebrate. It took a second, but I remembered The Rox. A little upscale for my taste, but it would have to do for tonight. "Meet me at The Rox."
I was already heading towards my truck. "And don't laugh. I already know what you're thinking. You're the one who wants to celebrate, so beggars can't be choosy." I ended the call.
It was a short drive to reach the nightclub. The parking lot was packed, but I managed to find a space. As I walked towards the entrance, I hoped the place didn't have a dress code. I'd cleaned up from earlier, but I was still rockin' just jeans and a t-shirt.
When I stepped through the door, I was about to look around for a spot to hole up and wait for Ox, when some woman grabbed my face and crushed her lips against mine. I was about to pull away, but shit, if those weren't the softest, sweetest lips I'd ever tasted. I shut my eyes and went with it. Whoever she was, she was hard and soft in all the right places, and the woman could kiss. She may have started things, but it wasn't too long before I mastered her. My tongue swept in to explore the sweetness of her mouth. She tasted of lime and salt.
Catcalls and whistles broke us apart. She pulled away before I did. When I laid eyes on who my kisser was, I was stunned. Lexie fucking Campbell? What had gotten into her? Miss Goodie Two Shoes herself. In high school, we hadn't run in the same circles. She'd been unattainable: respected and well-to-do parents, head cheerleader, student body president, girlfriend to Daniel the Dickwad, captain of the football team. Every guy wanted to fuck her, including me.
For a moment she seemed to sober when she looked at me. Realization shown in her eyes. Just as quickly, she doused the flicker of sobriety, and licked her lips in a sexy, suggestive manner. I was sure she knew who I was, but she didn't acknowledge it.
Lexie looked over her shoulder at the bar, still a bit unsure, despite the kiss she'd laid on me.
Over her shoulder, I glanced in that direction. Two women stared at us, and I remembered the girls they used to be. Lexie's girlfriends. In high school you rarely saw one without the others. The one with the short hair glared at me.
"Your friends?" Needing something to say, I asked the question, even though I already knew the answer.
Lexie whipped back around to face me. It was clear the alcohol was her liquid courage. Nice girls like her didn't pull stunts like that.
Suspicion clawed its way into my brain. I narrowed my eyes at her, wondering if this was part of some prank, joke or dare. Well, if it was, I was calling her bluff. I wasn't gonna let her back down. Stepping closer, I put my arm around her waist and pulled her into my body. Her swift intake of breath was followed by her tilting her head back to look up at me.
My gaze roamed over her face, taking in those beautiful, luscious brown eyes, her warm brown skin, and the beauty mark that sat at the curve of her top lip. The mess of curls that framed her face made me ache to feel the texture, but I knew better than to put my hands in her hair.
For a second, I lingered over her plump lips, remembering how they'd felt pressed against mine.
I wanted more of her.
My gaze snapped back up to meet hers, daring her to chicken out. This was a dangerous game she'd started, and I intended to finish it.
Her body trembled slightly. I half expected her to flee back to her friends. Lexie swallowed and licked her bottom lip. "Let's grab a drink."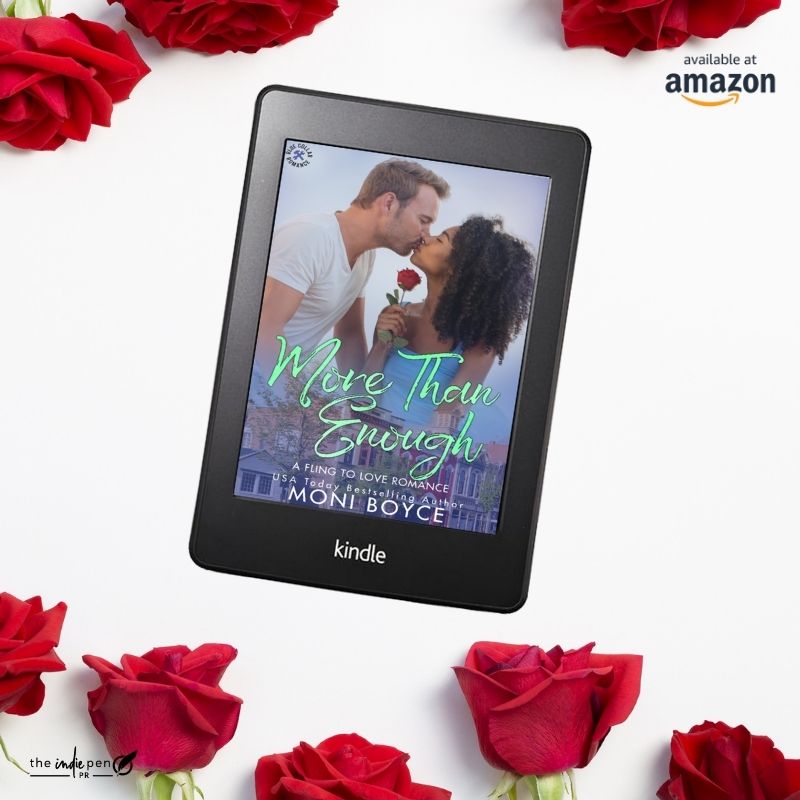 About Moni Boyce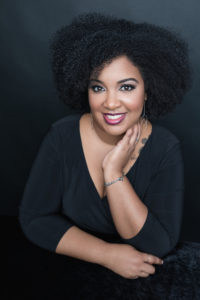 Moni Boyce is a USA Today Bestselling author of contemporary and paranormal romance, a filmmaker and a poet. After working in the film industry for fifteen years, helping others bring their visions to life, she now creates characters and worlds of her own. She considers herself a bookworm, film buff, foodie, music lover and an avid world traveler having visited 34 countries and counting. She currently lives in Virginia but considers Los Angeles her hometown.
Follow: Facebook | Instagram | Twitter | Pinterest | Goodreads | BookBub | Amazon | Website | Newsletter | TikTok
About The Blue Collar Romance Series

Escape to Oak Bend where blue-collar hotties work hard and love even harder.
From broody carpenters to sexy electricians, these eight standalones are packed with small town feels, heat, and heartwarming happily ever afters.
Enjoy your favorite tropes written by an amazing group of authors: Jaymee Jacobs, Alexa Rivers, Evelyn Sola, Kate Carley, Tracy Broemmer, Mila Nicks, Claire Wilder, and Moni Boyce.
Fall head over heels for swoon-worthy book boyfriends who aren't afraid of a little hard work for that happily ever after.
This promotional event is brought to you by Indie Pen PR