About Be Frank With Me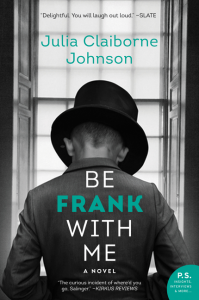 • Paperback:
320 pages
• Publisher:
William Morrow Paperbacks (September 6, 2016)
A sparkling talent makes her fiction debut with this infectious novel that combines the charming pluck of
Eloise
, the poignant psychological quirks of
The Curious Incident of the Dog in the Night-Time
and the page-turning spirit of
Where'd You Go, Bernadette.
Reclusive literary legend M. M. "Mimi" Banning has been holed up in her Bel Air mansion for years. But after falling prey to a Bernie Madoff-style ponzi scheme, she's flat broke. Now Mimi must write a new book for the first time in decades, and to ensure the timely delivery of her manuscript, her New York publisher sends an assistant to monitor her progress. The prickly Mimi reluctantly complies—with a few stipulations: No Ivy-Leaguers or English majors. Must drive, cook, tidy. Computer whiz. Good with kids. Quiet, discreet, sane. When Alice Whitley arrives at the Banning mansion, she's put to work right away—as a full-time companion to Frank, the writer's eccentric nine-year-old, a boy with the wit of Noel Coward, the wardrobe of a 1930s movie star, and very little in common with his fellow fourth-graders. As she slowly gets to know Frank, Alice becomes consumed with finding out who Frank's father is, how his gorgeous "piano teacher and itinerant male role model" Xander fits into the Banning family equation—and whether Mimi will ever finish that book. Full of heart and countless "only-in-Hollywood" moments,
Be Frank with Me
is a captivating and unconventional story of an unusual mother and son, and the intrepid young woman who finds herself irresistibly pulled into their unforgettable world.
My Thoughts...
I fell head over heels totally in love with one of the main characters of this book. The little 10 year old Frank is such a precocious, quirky, and wonderful young man that I couldn't help myself. His reasoning skills were beyond most adults, his though process was not what some would consider "normal" but it certainly made sense to him, and his quirks were not always easy to live with but were not the worst thing ever. I looked forward to finding out what would happen to him next, what his next adventure would be, and what his next challenge would be.
Alice and Mimi were fun characters to. They each had their definite ways and I enjoyed getting to know them. Alice was the hired help but she seemed like so much more than that. She was a mother figure to Frank and a friend (although Mimi would not agree) to Mimi. Mimi is Frank's mother but she was not always able to be there mentally or physically. I believe that she also had some type of issue that would not let her be in the real world every day.
The setting of California was not predominant in the story. There had to be a difference in settings to make Mr. Vargas' visit happen but the location could have been anywhere. There was some mention of some touristy places but again it was not a big part of the story.
I found Be Frank with Me to be a fun, quirky, and entertaining read. I can see how it will not a book everyone will enjoy but I recommend everyone at least check it out.

Purchase Links
About Julia Claiborne Johnson
Julia Claiborne Johnson worked at
Mademoiselle
and
Glamour
magazines before marrying and moving to Los Angeles, where she lives with her comedy-writer husband and their two children. Connect with Julia on
Facebook
and
Twitter
.