About Father's Day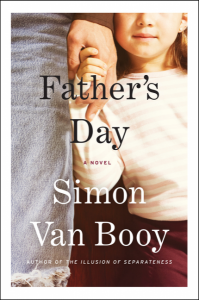 • Hardcover:
304 pages
• Publisher:
Harper (April 26, 2016)
"A strong voice full of poetic, timeless grace."—
San Francisco Examiner
When devastating news shatters the life of six-year-old Harvey, she finds herself in the care of a veteran social worker, Wanda, and alone in the world save for one relative she has never met—a disabled felon, haunted by a violent act he can't escape. Moving between past and present,
Father's Day
weaves together the story of Harvey's childhood on Long Island and her life as a young woman in Paris. Written in raw, spare prose that personifies the characters, this remarkable novel is the journey of two people searching for a future in the ruin of their past.
Father's Day
is a meditation on the quiet, sublime power of compassion and the beauty of simple, everyday things—a breakthrough work from one of our most gifted chroniclers of the human heart.
My Thoughts…
What a beautiful story. Jason and Harvey's lives could have ended up so incredibly different if they had not have found each other. Harvey is orphaned, Jason is her uncle and together they fit. As clueless as Jason is with raising her he steps up, does the right thing, and makes her have the best life possible. That could have gone so many ways. So many bad ways.
Harvey is wise beyond her few years when she loses her parents. She knows only what she has been told and it hasn't been all good about Uncle Jason, yet she knows that she needs to be with him. I love how she manipulated as only a child can do the system and Wanda to get put in the custody of Jason. Then I love how Jason stepped up and out of his comfort zone to care for her. I giggled, was concerned, and was beyond thrilled with how they meshed together.
This is a two part story. It bounces back and forth between the past and Harvey's youth and the present and her life as a young woman in a foreign country. I was impressed with how Harvey turned out and how Jason has such a huge part in that life and her decisions. My only wish was that the different timeframes were better labeled or given their own chapters. It was not overly confusing but there were a few times that it took a few sentences for me to realize Harvey was a young girl instead of a young woman.
Father's Day is a touching, sweet story that held my attention from the beginning to the end. I definitely recommend picking up your copy today.

Purchase Links
About Simon Van Booy
Simon Van Booy is the author of two novels and two collections of short stories, including
The Secret Lives of People in Love
and
Love Begins in Winter
, which won the Frank O'Connor International Short Story Award. He is the editor of three philosophy books and has written for
The New York Times
,
The Guardian
, NPR, and the BBC. His work has been translated into fourteen languages. He lives in Brooklyn with his wife and daughter. Find out more about Simon at his
website
and follow him on
Facebook
and
Twitter
.