About Another Brooklyn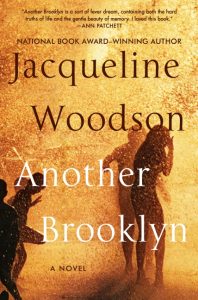 • Hardcover:
192 pages
• Publisher:
Amistad (August 9, 2016)
The acclaimed
New York Times
bestselling and National Book Award–winning author of
Brown Girl Dreaming
delivers her first adult novel in twenty years. Running into a long-ago friend sets memory from the 1970s in motion for August, transporting her to a time and a place where friendship was everything—until it wasn't. For August and her girls, sharing confidences as they ambled through neighborhood streets, Brooklyn was a place where they believed that they were beautiful, talented, brilliant—a part of a future that belonged to them. But beneath the hopeful veneer, there was another Brooklyn, a dangerous place where grown men reached for innocent girls in dark hallways, where ghosts haunted the night, where mothers disappeared. A world where madness was just a sunset away and fathers found hope in religion. Like Louise Meriwether's
Daddy Was a Number Runner
and Dorothy Allison's
Bastard Out of Carolina
, Jacqueline Woodson's
Another Brooklyn
heartbreakingly illuminates the formative time when childhood gives way to adulthood—the promise and peril of growing up—and exquisitely renders a powerful, indelible, and fleeting friendship that united four young lives.
My Thoughts…
Another Brooklyn is such a unique book. The style that Jacqueline Woodson uses while telling the story of Gigi, Angela, August, and Sylvia is not the typical book format. There are flashbacks to the life that was and how they became who they are today.
This book is told from the perspective of a young black girl growing up in Brooklyn. There are horrors that no young girl should have to know about much less deal with that is in the everyday life of these girls. The loss of a mother, the murders of white women, and the drugs are just a few that stuck with me. One thing I did like is the parents. Most of the adults in this book are responsible and take care of their children. The parents treat the girls like the ages that they are, keeping them inside when it is not safe, guiding them to become successful by going to school, and checking out who their friends are.
While this is not my usual type of read it was interesting to get a glimpse into the lives of those living in Brooklyn, NY during the 1970's. It is a place I have never visited yet I could see the fire hydrants spraying water in the heat, the apartments with the windows cracked and people sitting at them, and I could picture the people walking the sidewalks looking up at the different apartments. The descriptions were realistic making it easy to get pulled into the story.
I would recommend picking up your own copy

Praise for Another Brooklyn
"
Another Brooklyn
is a sort of fever dream, containing both the hard truths of life and the gentle beauty of memory. The story of a young girl trying to find herself in the midst of so many conflicting influences and desires swallowed me whole. Jacqueline Woodson has such an original vision, such a singular voice. I loved this book." — Ann Patchett,
New York Times
Bestselling Author
"The novel's richness defies its slim page count. In her poet's prose, Woodson not only shows us backward-glancing August attempting to stave off growing up and the pains that betray youth, she also wonders how we dream of a life parallel to the one we're living." — Booklist (Starred Review)
"Woodson crafts a haunting coming-of-age story of four best friends in Brooklyn, New York...Here is an exploration of family—both the ones we are born into and the ones we make for ourselves—and all the many ways we try to care for these people we love so much, sometimes succeeding, sometimes failing. A stunning achievement from one of the quietly great masters of our time." —
Kirkus Reviews
, Starred Review
"Woodson…combines grit and beauty in a series of stunning vignettes, painting a vivid mural of what it was like to grow up African-American in Brooklyn during the 1970s…Woodson draws on all the senses to trace the milestones in a woman's life and how her early experiences shaped her identity." —
Publishers Weekly
, (Boxed and Starred Review)
"With spare yet poetic writing, this long-awaited adult novel by National Book Award winner Woodson (
Brown Girl Dreaming
) is a series of vignettes narrated by August, shortly after her dad's funeral and a chance encounter with an old friend." —
Library Journal
(starred review)
About Jacqueline Woodson
Jacqueline Woodson is the bestselling author of more than two dozen award-winning books for young adults, middle graders, and children, including the
New York Times
bestselling memoir
Brown Girl Dreaming
, which won the 2014 National Book Award, the Coretta Scott King Award, a Newbery Honor Award, an NAACP Image Award, and the Sibert Honor Award. Woodson was recently named the Young People's Poet Laureate by the Poetry Foundation. She lives with her family in Brooklyn, New York. Find out more about Woodson at her
website
, and connect with her on
Facebook
,
Twitter
, and
Tumblr
.